The Creswell Family Resource Center is taking applications for Season of Giving!
This community sponsored program helps families who need extra support over the holiday season with gifts, food, and other needs. If you would like to apply please click the link to fill out an application: 
https://forms.gle/PFVECoBHWapVxGy39
If you would like to sponsor a child, be on the lookout for the angel trees around the community!
What is the Family Resource Center?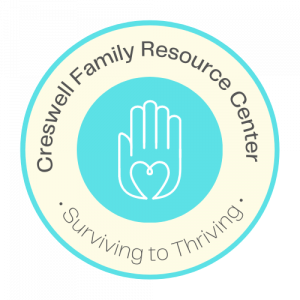 The Creswell Family Resource Center at Creswell School District strives to help build stronger and healthier family relationships through educational activities, parenting programs and workshops, and partnering with community organizations. Helping families move from surviving to thriving is our ultimate goal.
What We DO:
Provide a safe space for all families in our community to access the resources they need to thrive.
Keep families up to date on events in our community.
Focus on STEM (Science, Technology, Engineering and Math) activities.
Promote and offer KITS (Kids in Transition to School) recruitment and support.
Assist families in finding childcare that fits their needs.
Offer family and parenting workshops.
Provide support for food, clothing, housing, and other basic needs.
Services and Programs:
Parenting workshops
Early literacy activities and story times
STEM activities
Family fun & educational events
Free computer use and printing
Clothing Closet
Parenting book check-out
Recruitment for KITS, Preschool Promise, and Family Relief Nursery
Office: (541) 895-6175
Mobile: (541) 279-2979

Family Resource Center Coordinator
996 W. A Street
Creswell, OR 97426