Home » Creswell Bond CHS Projects
Creswell Bond CHS Projects
CHS Turf Field Evolution - Preparing the Foundation
This summer local crews and contractors have been working diligently to excavate and prepare the ground at CHS for the installation of our new turf field and track surface. Watch this short video to see the evolution of this project from June until early August 2023.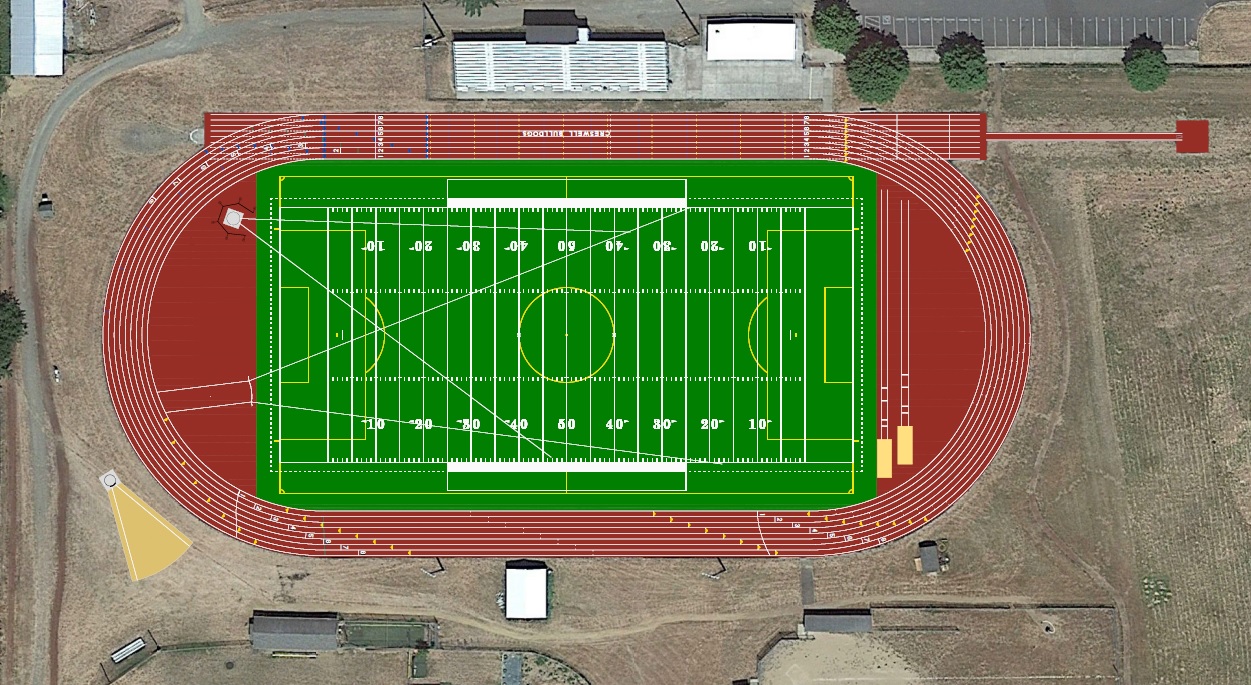 Ready for the starter pistol!
Creswell School District has signed its contract with Beynon, the industry leader in track surfacing since 1974. You may already be familiar with their work. Their most notable project in our neck of the woods: Hayward Field! Host of the 2022 World Athletics Championships.
With this signed contract, we are excited to release the renderings of the new field and track that we will see come to life this Fall. You may notice that the track will now be red, instead of black, and the Creswell Bulldog logo will take center stage at mid-field. We can't wait for our students to be able to access and use this state-of-the-art space at the CHS campus!
Below is the rendering of the turf field with CHS Bulldog logo: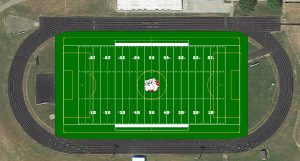 You can learn more about Beynon here: Beynon Sports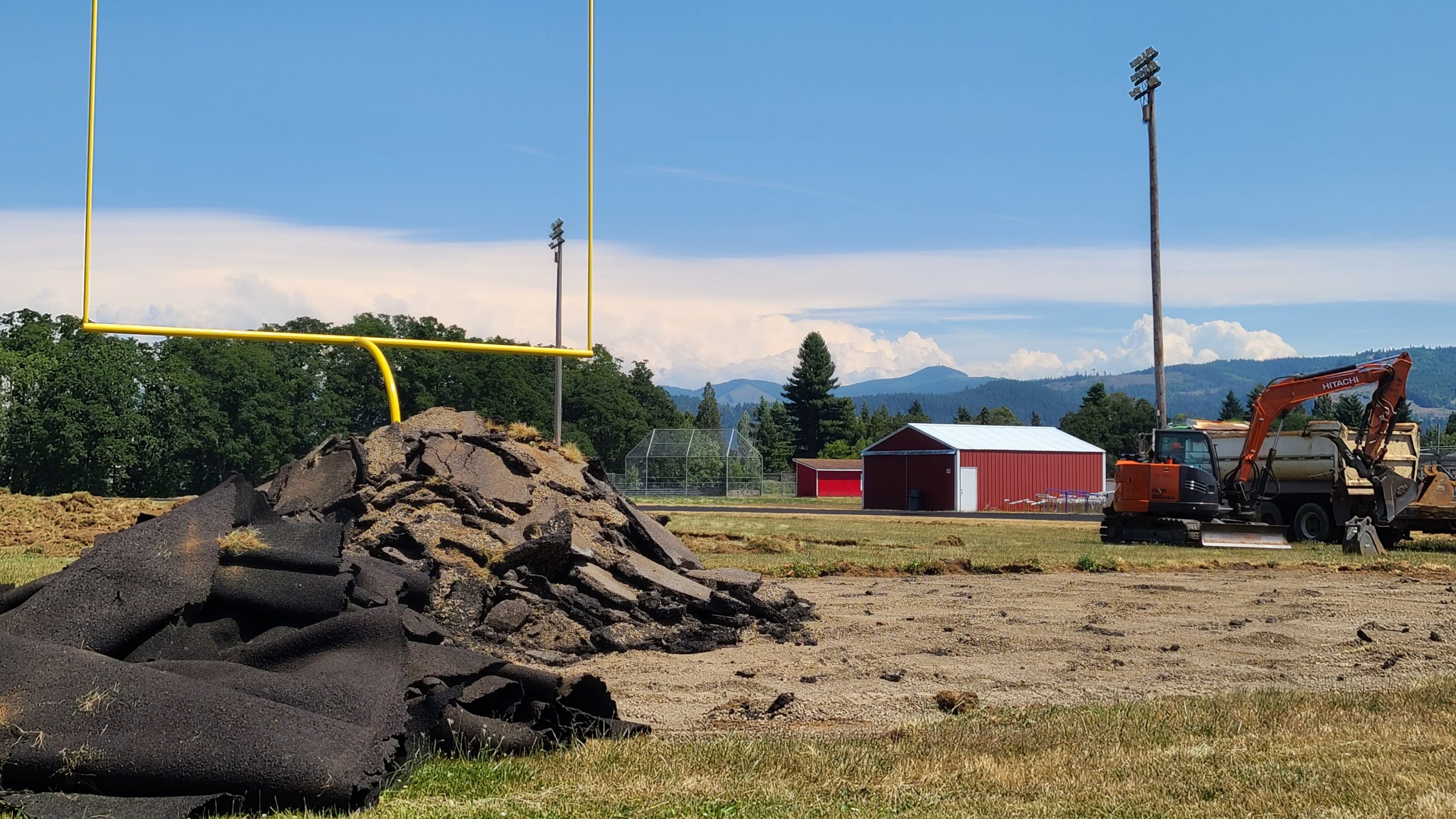 Partnership with CSD Council for CHS Turf Field
Creswell School District has partnered with the Community Sports Development Council to help bring the highest quality turf field to Creswell. The CSD Council is a decades-old national alliance that has committed annual resources to support the development of premium synthetic sports fields. Creswell is one of many projects that the Council has partnered with. Other area partners include Cottage Grove and Pleasant Hill High Schools. However, the Council has hundreds of projects that span the U.S. and international locations. You can learn more about the CSD Council here: https://csdcouncil.org/
With this partnership, Creswell School District is able to stretch bond finances to cover more projects. This summer, Creswell business, Marple Excavating, will prep the field, and the Council will develop the turf and complete the installation. Following the turf installation, the track will be resurfaced and a D Zone installed. We think the end result will be a TOUCHDOWN!
Stay tuned for more updates!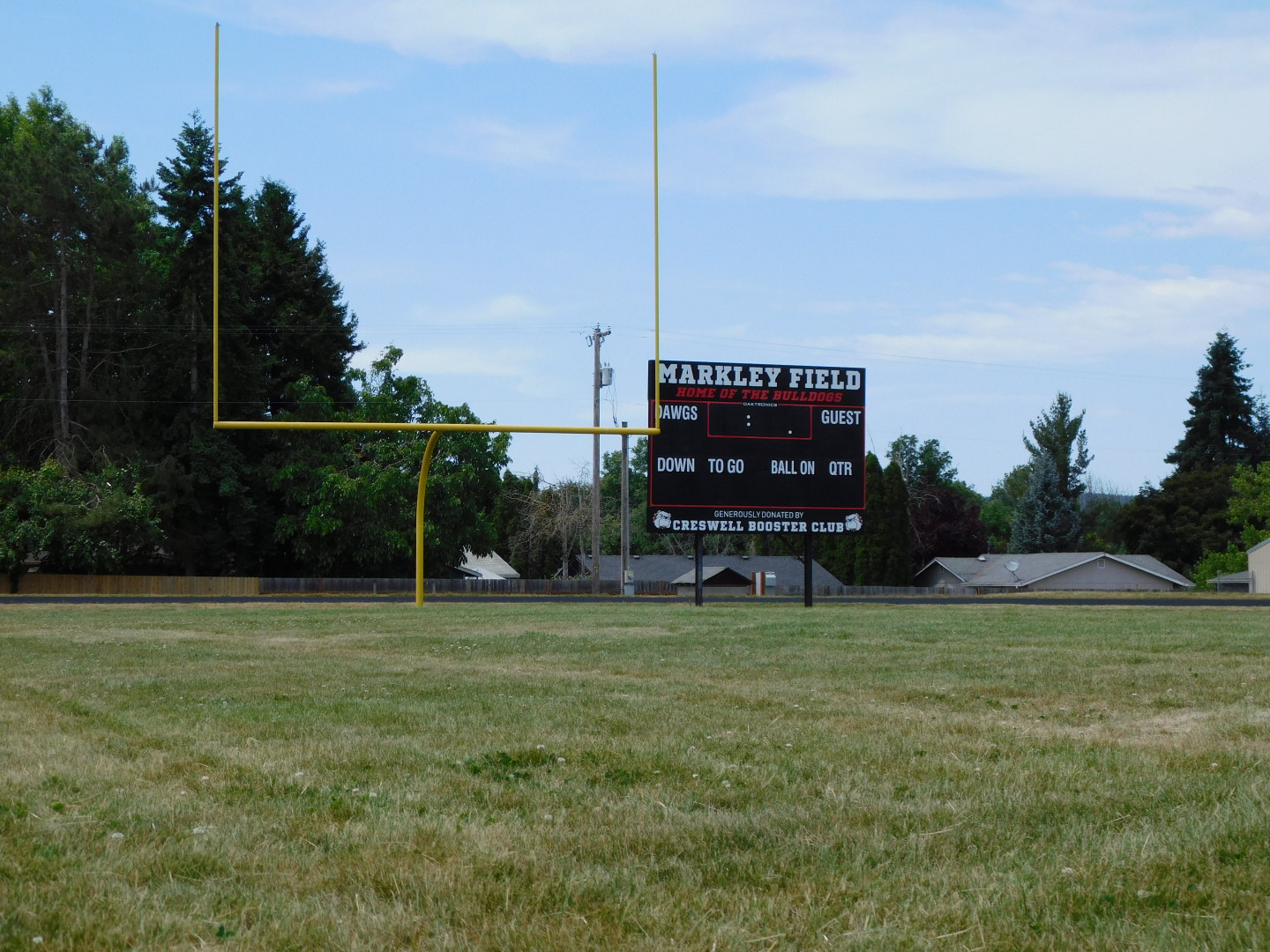 Summer 2023 Projects
After overwhelming support from the Creswell community in May 2023 with the passing of our bond, we have taken steps to start making headway on projects that will improve facilities to be felt as early as the Fall of 2023 for our students. Over the next several months we will be appointing an oversight committee and providing continuous updates to the many projects in the works on our three campuses.
Stay tuned for more updates!
CHS Bond Projects
COMPLETED
Football/Soccer Play field – Turf
Stadium Lighting
CHS Bond Projects
PE/Athletic Facilities Upgrades
Resurface track
Grandstand Cover
CHS Bond Projects
PE/Athletic Facilities Upgrades
Revamp Baseball and Softball Playfields
Building #1 (Gym/Commons)
Seismic Improvements
Paint Exterior Walls
Repair Exterior Walls
Replace Roof Section
Modify Interior Spaces