Intergenerational Reading Collaboration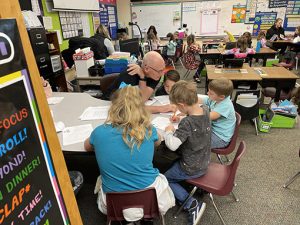 Creslane Elementary School is in its tenth year of implementing the Intergenerational Reading Collaboration (IRC) Program. This school-based volunteer program supports kindergarten through third grade (K-3) student reading and the school's positive behavior culture.
The Creslane IRC Reading Program brings adults and children together in elementary classrooms for reading instruction in small groups under the direction of the teacher. Volunteers receive training and support to realize the shared goal of building the child's strong literacy ability by fourth grade. Children must learn to read by the third grade so that they can read to learn for the rest of their school experience.
How to Volunteer
To volunteer with the IRC, please:
 Complete the IRC Volunteer Application and turn it into the Creslane Elementary School office at 996 West A Street; Creswell, OR 97426.
All volunteers must submit an Oregon Department of Education background check form (paid for by Creswell School District) and provide proof of COVID-19 vaccinations.  This can be completed by visiting the Creswell School District Office located at 998 West A Street.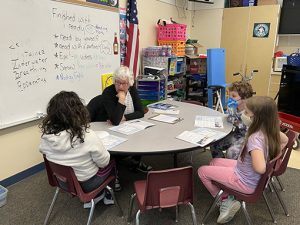 There is currently a team of 27 volunteers working with nearly 400 students in small groups. Recruitment is ongoing for additional volunteers.
The IRC Reading Program is modeled after the successful Baltimore School District Experience Corps that has been in operation for more than two decades. The Baltimore program regularly demonstrates:
Better Academics: Elementary students have higher test scores when compared to similar elementary school classrooms without the intervention,
Improved School Climate: There are fewer behavioral issues and reduced security incidents, and
Better Older Adult Health and Well Being: Older adult volunteers indicate they feel better about themselves, are less isolated with a strong social support system and have increased physical activity.