Attention CMS Families:
Yearbook orders must be in by April 11th in order to receive two FREE custom pages. Yearbooks are $15 and need to be purchased online–the office cannot order them for you. Please use the flyer to order your students' yearbook.
Link to Purchase/Register: www.treering.com/validate
School's Passcode: 1016395240442321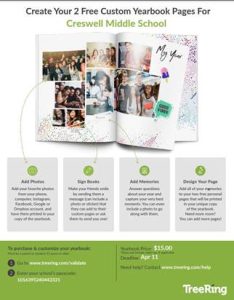 If you have any questions or need help ordering, please contact Heidi Rakas at 541-895-6095.